If you are looking for ways to improve the energy efficiency of your home or office, integrating solar power could be a great option. A-1 Guaranteed is proud to offer solar power solutions to customers throughout the Bay Area. Right now is the best time to go solar. Energy costs are on the rise with an average inflation rate of 7%. Installing solar can save you up to 50% or more on electrical expenses and is like prepaying for electricity. Currently, there are Federal Solar credit up to 30% available (for a limited time). In addition, making the choice to go solar reduces your dependency on the power grid. Once you have solar panels installed, you will have gained energy independence, no longer relying on municipal utilities to power your home.
Choosing solar options can help you meet your energy efficiency goals. When upgrading your home or business you can start enjoying the benefits of energy efficiency today.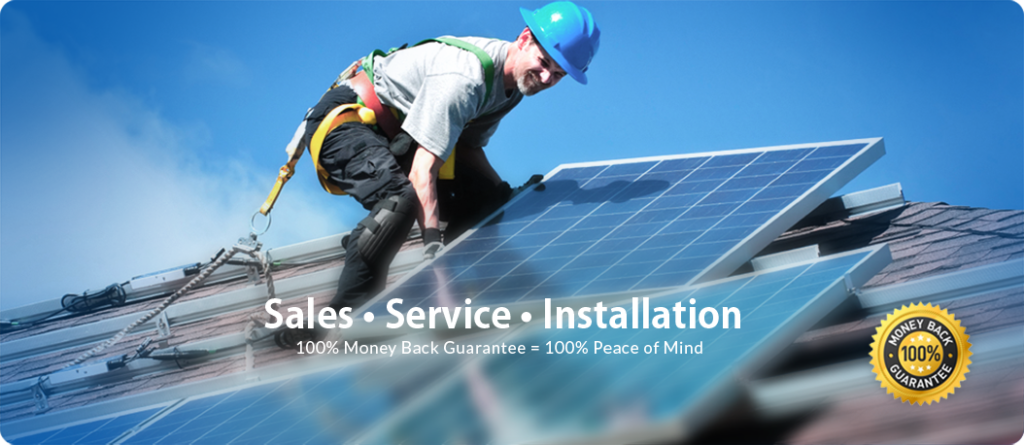 If you are looking for ways you can incorporate solar power into your home or business in The Bay Area, A-1 Guaranteed is your go to choice for reliable and professional service.
When choosing A-1 Guaranteed's solar contractors for your solar panel installation needs you will receive:
Unrivaled customer service
Increased property value
Energy independence
A family owned business
Solar equipment is backed by a 25 year linear performance warranty
A Diamond Certified, Better Business Bureau Honor Roll, and Best of The Bay honoree.
A Best of Solano winner of 14 years
A Bay Area Certified Green Business that is dedicated to energy efficiency in your home
Experienced techs that will offer you the best solar installation available
We offer premium solar installation in the Bay Area, as we are your one stop shop for energy efficiency. Our team of highly qualified, professional technicians are happy to assist you with all of your solar needs, including solar panel installation.
If you have solar panels installed on your home or you've been thinking about getting them, you should know that batteries help take your solar energy system to the next level. They store excess electricity so if there's a problem with the power grid, your home will still have power. When you have these batteries installed, you can monitor the battery status, PV production, remaining back-up power, and self-consumption data to make sure it's working properly.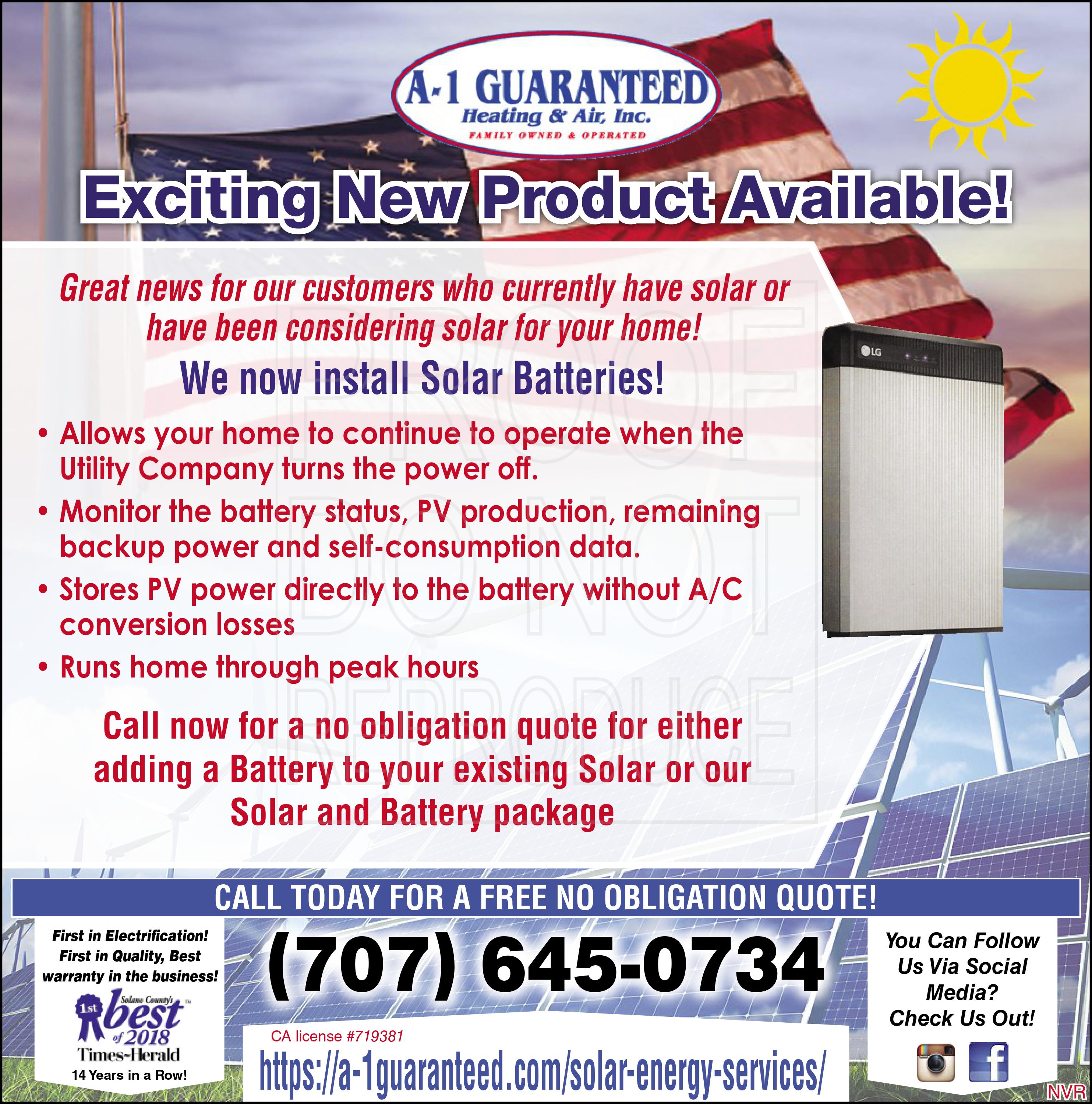 Call A-1 Guaranteed Heating & Air, Inc. today, to speak with one of our friendly, customer care professionals.
contact us today!
Awards & Certificates
Better Business Bureau Honor Roll Member for 21 Years Running
Energy Upgrade Participating Contractor
Trane Award for Superior Installation and Service
Voted Best Heating/Cooling Company for 14 years by Readers of The Vallejo Times Herald
Vallejo Schools V.I.P. Award for Partners in Education
Vallejo Little League for Support and Generosity
Bay Area Certified Green Business
Employee Support of the Guard & Reserve by Office of the Secretary of Defense
Energy Efficiency Award by Energy Upgrade California
Memberships
Chambers of Commerce: State of California, City of Vallejo, and City of American Canyon
League of California Homeowners
Electric & Gas Industries Association
Air Conditioning Contractors of America
Napa-Solano Builders Exchange
Better Business Bureau
Safety Services Company
A-1 Guaranteed Heating & Air Conditioning
1768 Broadway St. Vallejo, CA 94589