TRAVIS CREDIT UNION FINANCING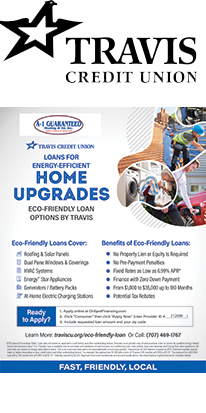 Financing Made Easy
A-1 Guaranteed has partnered with Travis Credit Union to offer financing options to our customers
Travis offers:
– A low, fixed interest rate
– No pre-payment penalties
– Affordable monthly payments
Receive a decision within minutes, apply below.

Fast,Friendly,Local
Visit our website for additional benefits of being a member at Travis Credit Union, click here.
Financing Energy-Efficient Home Upgrades with the HERO Program
A-1 Guaranteed is proud to be a contributing member of the HERO Program, a government sponsored incentive program that helps homeowners finance energy-efficient home improvements through Property Assessed Clean Energy legislation, otherwise known as the PACE Program.
The HERO Program allows homeowners to invest in vital energy and water saving home upgrades with low, fixed interest rates. Payments are made through the homeowner's property taxes. Financing terms range from 5 to 25-year repayment plans. The homeowner may also be eligible for tax-deductible interest payments and/or PG & E rebates. There are no upfront costs attached to the HERO Program. Any upgrades made with the
HERO Program
will not affect the homeowner's credit score. Eligibility for the program is based on the current value of the applicant's property. Homeowners can borrow up to 15% of their home's current value.
Go Green Financing

Whether you want to reduce energy usage, improve the comfort and health of your home or business, or just want to "go green," you can find the solution you need. GoGreen Financing serves four broad property types.
https://gogreenfinancing.com/
contact us today!
General Information
Business Hours are 8:00 AM to 5:00 PM Monday – Friday and Saturdays by appointment.
Office will be closed the 3rd Wednesday morning of each month for company-wide training.
A-1 Guaranteed Heating & Air, Inc.CA license # 719381
1768 Broadway, Vallejo, CA 94589 (See map below)
A-1 Guaranteed Phone Numbers
A-1 Guaranteed Emails